Let's go!
jesus is the ultimate servant,aND AS HIS FOLLOWERS, OUR DESIRE IS TO BECOME MORE LIKE HIM. WE HAVE A NUMBER OF WAYS FOR YOU TO GET STARTED. cHECK IT OUT, AND LET US KNOW HOW WE CAN HELP YOU. We will NOT GROW WEARY OF DOING GOOD, FOR AT THE PROPER TIME WE WILL REAP A HARVEST IF WE DO NOT GIVE UP.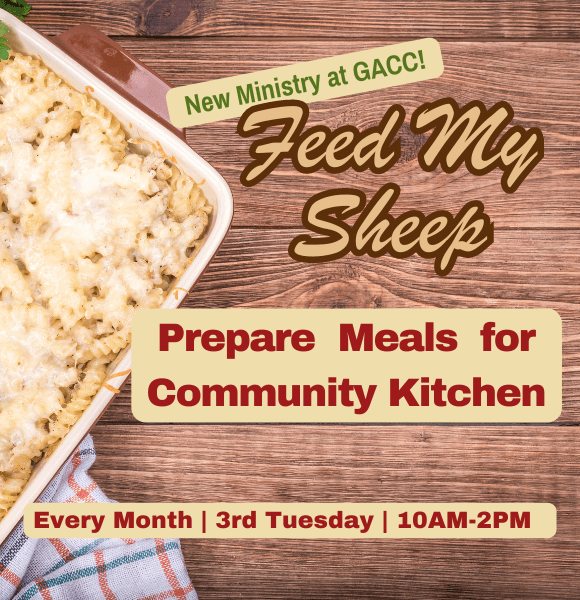 Working with the Feed My Sheep ministry, GACC prepares and serves a community lunch on the 3rd Tuesday of each month at Bethel AME. These lunches are free of charge to anyone needing a meal.
If you are able to serve with us, it would be great to have you!
No planning or organizing required. Volunteers just need to show up and be ready to cook, clean, and serve. Kitchen space is limited to five people at a time, and volunteers are on their feet. Due to health department rules, all food must be prepared on-site.
There are two shifts available:
10:00AM-Noon
Prepare food and clean up
Noon-2:00PM
Serve meal and clean up
You can sign up at the Welcome Center in the church lobby, or reach out using the form below.
______________________________________________________________________
Want to serve in Kids Ministry? Lots of opportunities--check 'em out!
______________________________________________________________________
It's never too late to get involved with our students!
There are opportunities to serve in Quest, mentoring, hosting events, and specific prayer needs. Let us know what fits for you using the button below. It would be great to have you join us!